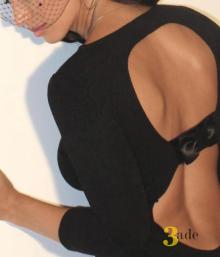 Great interview with AVA VIGINTY thanks to Almaza Pirha from 3ade.lv
AVA VIGINTY became famous with her feminine, sensual and romantic dresses. Instead of the minimalism and unfeminine fashion trends, VIGINTY Couture dresses catch the eye with its low cuts and decolettes and lace. The unexpected mixture of art nouveau, art deco and pin up in the world of straight lines and usual colors.
Almaza:  Ava, Your dresses show Your inner soul?
Ava: Of course, my dresses reflect my inner soul. Each of them contains a piece of me and is made with love, that's why my dresses bring luck to their owners.
Almaza: Such dress definitely provokes man, gets his attention, seduces...
Ava: I would rather call it – well forgotten simple femininity. All women love men's attention and crave it. My dresses are instruments to get plenty of attention and compliments.
Almaza: Your dresses are made for curvy women. Ant there should be some expertise in wearing them...
Ava: All shapes are beautiful. You just need to choose the right dress and if you really in love with yourself and your body and you want to be adored, this is how such dresses should be worn.
Almaza: Geometric prints, ethnic motives, bright colors, bows, lace...where does Your inspiration come from?
Ava: From anywhere! Sometimes I wake up with the feeling that i am in love with the whole world and this is how inspiration shows itself. This is unexplainable but divine process.
Almaza: Woman's desire is to look great anytime and anywhere...Can we spot Ava in sports clothes?
Ava: Well, sure. I am walking my doggy in sports clothes and uggs)
Almaza: What do You think make a woman beautiful?
Ava: To my mind this is self-confidence,  exepting yourself the way you are with all your good and bad sides. Such attitude leads to inner harmony and lightens the eyes.
Almaza: Nowadays fashion trends are changing so fast, that a woman can't catch up on it, trying to use one trend for the few seasons. What is Your attitude to the fashion trends that changes every season?
Ava: I don't care about those trends. Just wearing what suits personally me and makes me beautiful.
Almaza: VIGINTY Couture is off trends?
Ava: My trends are beauty and femininity.
Almaza: VIGINTY Couture is more focused towards private clients or making collections?
Ava: We are focused on creating our collections and on the personal approach to every client. I am somehow a designer-psychotherapist. My goal is to help each of my clients to become beautiful and appealing.
Almaza: Do Your dresses have copies or  are they unique?
Ava: We mostly don't have absolutely identical dresses. Well I can't say for sure that this is gonna be our constant way of things, but for now I am sure this is the right politics in such a small city like Riga.